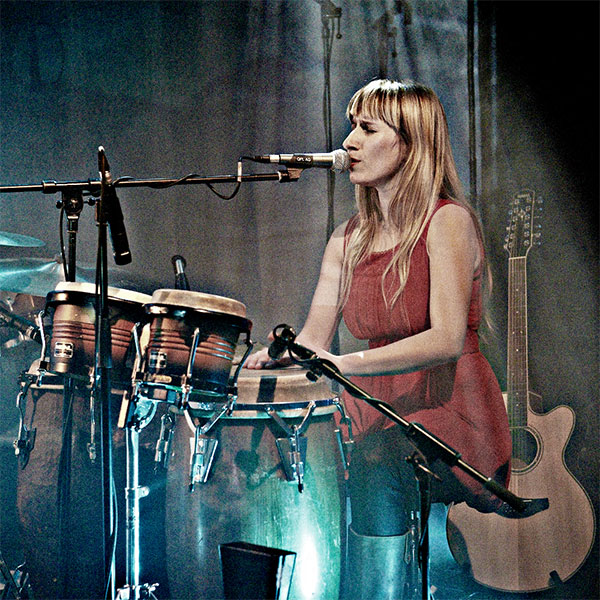 Biography
---
Ines Brodbeck ist professionelle Perkussionistin. Geboren wurde sie 1981 in der Schweiz mit kubanischen Wurzeln. Aufgewachsen in einer Musikerfamilie, begann sie bereits mit sieben Jahren Violine zu spielen und hatte klassischen Klavierunterricht. Zurzeit entdeckt sie auch die Gitarre als Kompositionshilfe und Bühneninstrument. 2010 schloss sie an der Musikhochschule Basel, Abteilung Jazz ihr Studium ab. Sie studierte u.a. bei Julio Barreto, Willi Kotoun, Andreas Pupato (Nik Bärtsch's Ronin), Malcolm Braff und bei Abraham Mansfaroll in Havanna, Kuba.
Während des Studiums spielte sie in den Artist In Residence-Projekten von Carlo Mombelli (Johannesburg), Jovino Santos Neto (Rio de Janeiro) und Guillermo Klein (Buenos Aires). Parallel dazu war sie 2007 an einer achtstündigen Performance (Neue Musik) am Musikfestival Rümligen beteiligt und 2007 und 2008 bei zwei Produktionen am Theater Basel als Bühnenmusikerin (Perkussion und Violine) engagiert.
Zurzeit ist sie mit dem Theaterkabarett Birkenmeier mit dem Programm "Weltformat" unterwegs. Sie ist Bandmitglied der Funk/Soul-Combo Neighbourhoud und des wilden Balkan/Cumbia-Mixes von Jaro Milko and the Cubalkanics. Zuletzt spielte sie im Rahmen des Culturescapes-Festivals im November 2011 Tel Aviv meets Basel in der Kaserne Basel.
---
---
Booking contacts
Agency: Fairplay Music
Phone: +41 79 427 82 66
Website: www.inez-music.com
Email: www.fairplaymusic.ch
---
---