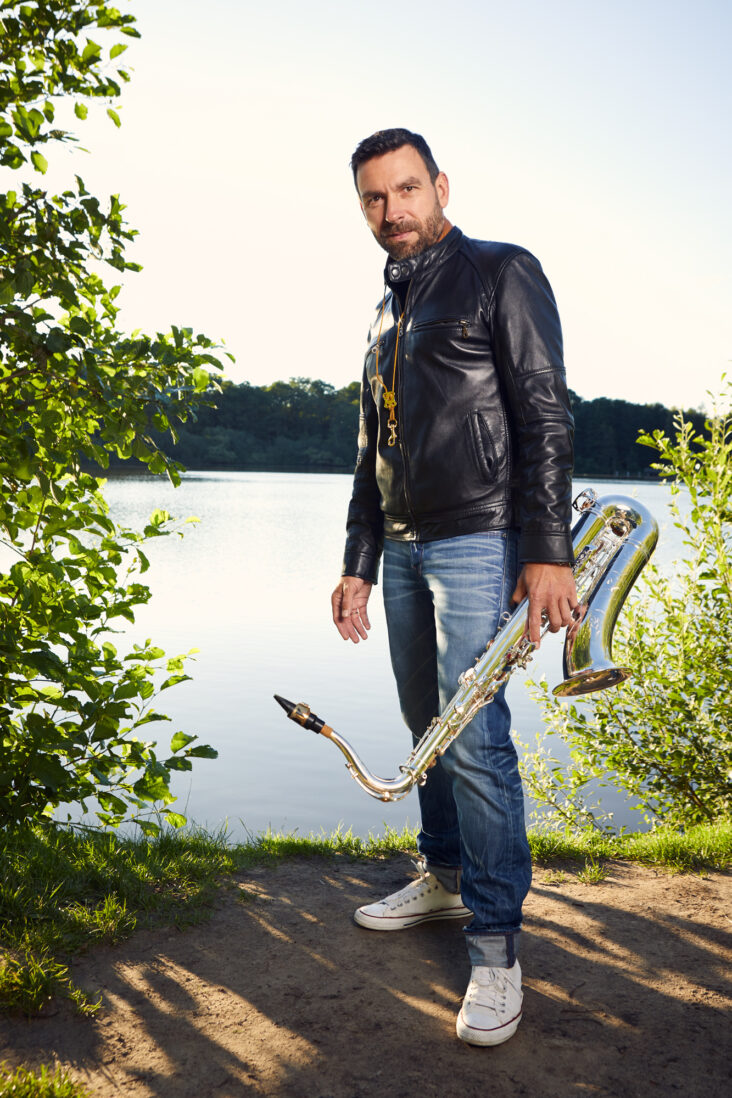 Biography
---
Thorsten Skringer absolvierte 1995 die "Neue Jazz Schule München" mit Diplomabschluss und gilt seitdem als feste Größe in der Soul/Pop/ Jazz-Szene Deutschlands. Als Gründungsmitglied der Band "Soulkitchen" bestritt er Auftritte in ganz Europa, Russland und China und prägte Bands wie die "Earforce Bigband" und das Ensemble "Der 5te Mann" mit seinem "Big Sound".
2003 gewann Thorsten Skringer den Yamaha European Saxcontest und startete seine Solokarriere mit der Veröffentlichung der beiden Tonträger "Skringer & Friends live in der Badeanstalt" und "Skringer, Over the line".
Seit 2009 ist Thorsten Mitglied der "Heavytones" und war an den letzten 3 CD Produktionen der Band beteiligt. Insgesamt bestritt er mit den Heavytones fast 1000 Tv Total Shows und Castings. Im Zuge der Show Tv Total spielten die Heavytones mit Acts wie: Till Brönner, Lionel Ritchie, Tower of Power, Joss Stone, Jamie Cullom, Herbert Grönemeyer, Charlie Winston, Aloe Blac, Stephanie Heinzmann, Paul Carrack, Max Mutzke, Gregor Meyle, Lena M-L, Roman Lob, Helene Fischer, David Garrett, Xavier de Maistre, Tony Christie, Jonathan Jeremiah, Tim Bendzko, Joy Denalane, Natasha Bedingfield, Patrice, Raphael Saadiq, Bootsy Collins, Johannes Oerding, Helge Schneider, Pohlmann, Asa, Rox, Culcha Candela, Laith Al Deen, Steve Appelton, Roger Cicero, uvm…
Seit dem Tower of Power bei TV Total performte genießt Thorsten Skringer als einziger Saxophonist Europas neben Candy Dulder das Privileg, bei Tower of Power als Gastsolist die Bühne betreten zu dürfen. Seine "Call and Response" Einlagen mit Tom E Politzer genießen jetzt schon Kultstatus in der Szene.
Als gefragter Dozent bereiste Skringer ganz Europa und hielt Workshops an Hochschulen, Musikhäusern und Bigbands. 2012 gründete Thorsten Skringer Deutschlands größten Workshop: Das "Saxcamp Skringer" im Bayerischen Wald ist ein 5 Tage Seminar und findet jedes Jahr bei über 100 aktiven Teilnehmern anklang. Seit Jahren sind sämtliche Saxcamps ausgebucht. Unzählige CD Produktionen und Filmmusik Aufnahmen halten Thorsten Skringers Big Sound fest.
---