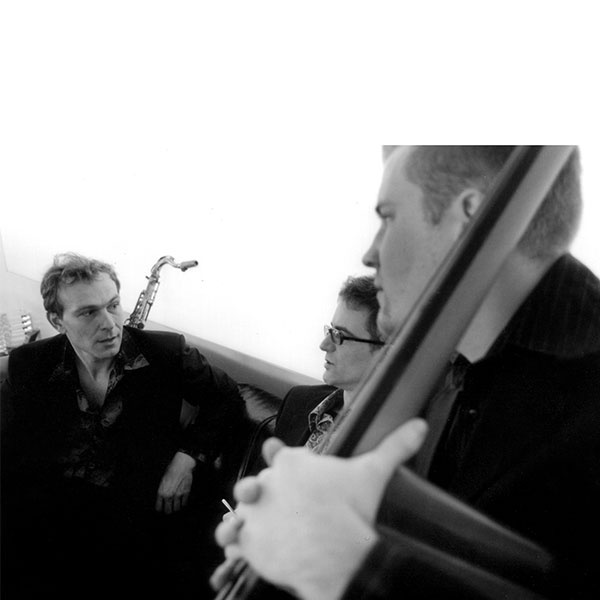 Biography
---
Als die Bonusmeilen das Bandkonto beinahe sprengten, entschloss sich das CAFEHAUSTRIO, die Instrumente einzupacken und sich auf eine große Reise zu begeben. Die drei Musiker verliessen das Kaffeehaus mit einem "Coffee to go" und zogen los. In fernen Ländern erlebten sie die unterschiedlichsten Gebräuche und Eigenheiten, hörten unbekannte und vertraute Klänge, und hatten bald jede Menge wunderbarer Musik im Gepäck. So manche Schätze brachten sie auch mit nach Hause, beispielsweise die norwegische Sängerin Liv Solveig – und Erinnerungen an karibische Strände, an den amerikanischen "Highway to Heaven" sowie an endlose skandinavische Wälder.
Davon erzählen die Stücke dieser CD. Mit dem unverfälschten Klang von Saxophon, Gitarre, Kontrabass, Gesang und Percussion gibt das CAFEHAUSTRIO diesen intensiven Eindrücken seine eigene Note. Musik aus aller Welt, die mit viel Liebe zum Detail zu einer individuellen Mischung gereift ist.
Musiker Bio:
Christian Ammann studierte Jazz/Popularmusik in den Fächern E-Bass und Kontrabass an der Staatlichen Hochschule für Musik und darst. Kunst Mannheim. Ei zusatzstudium in Komposition/Arrangement schloss er 2003 mit Diplom ab. Neben seiner Workshop- und Unterrichtstätigkeit ist er ein international sehr gefragter Live- und Studiobassist und spielte schon mit vielen namhaften Künstlern. Tourneen und Konzertreisen führten ihn u.a. in die USA, nach Russland, Süsostasien und in alle europäischen Länder. Daneben kann man ihn auf CDs verschiedener Bands hören.
Klaus Buchner begann sein Musikstudium 1994 an der FMW Frankfurt/Main. 1999 machte er den Abschluss zum staatlch anerkannten berufsmusiker und Instrumentalpädagogen für Jazz und Popularmusik. Heute spielt er in unterschiedlichen Besetzungen im In- und Ausland. Einladungen zu internationalen Jazzfestivals, wie nach Montreux und Belfort, gehören genauso zu seinen Erfahrungen wie Rundfunk und Frensehaufzeichnungen. Auserdem ist er als Studiomusiker tätig und unterrichtet an einem Privatgymnasium und zwei Musikschulen.
Sven Götz ist in Schweden aufgewachsen. Unterricht an der Swiss Jazz School in Bern/Schweiz sowie Grundstudium und künstlerisches Aufbaustudium in den Fächern Jazz-Gitarre und Klassische Gitarre an der Staatlichen Hochschule für Musik Stuttgart. Internationale Konzerttätigkeit und Zusammenarbeit mit namhaften Künstlern in Schweden, in der Schweiz und in Frankreich. CD-Einspielungen u.a. mit FRIDGE PEOPLE, DINNER FOR TWO, und dem SVEN GÖTZ QUARTETT. Seit 1997 Orchestermusiker bei Miss Saigon, Tanz der Vampire, Cats und Mama Mia. Musikproduktion im eigenen Studio.
Die Jazzsängerin und Geigerin Liv Solveig Wagner schreibt und singt folkige Songs, bearbeitete skandinavische Volkslieder und eigenarrangierte Jazzlieder. Liv ist bekannt für ihre eigenwillige und feinfühlige Bühnenpräsentation, in der sie ihre unterschiedlichen musikalischen Einflüsse miteinander verschmelzen lässt. Seit 2009 ist Liv Stipendiatin der Kunststiftung Baden-Württemberg. In ihrer derzeitigen Heimat New York widmet sich Liv Solveig dem Studium der Jazzgeige und des Jazzgesanges.
---